Gallery Bliss Floral Design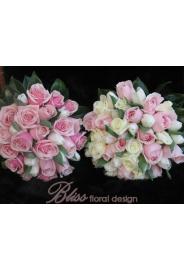 Bliss Floral bride's bouquet of Bianca and Sweet Avalanche roses, white tulips and camellia foliage. Bridesmaid posy of Sweet Avalanche, Rosita Vendella roses and white tulips.
To contact Bliss Floral about your wedding flowers please visit their website at www.blissfloral.com.au
Subscribe news Letter for special offer & news!