Featured Provider Glug Designs
Listing Category:
Business Name:
Glug Designs
Address:
PO Box 5029 Brendale Dc
Brendale, Qld 4500
Phone:
0432518531
Website:
Business Hours:
24 hours day/7 days week
Services Description:
At Glug Designs we offer a unique keepsake for your wedding guests! Customised Stubby Coolers in colours that tie in with your special day. You can choose from one of our designs or supply your own artwork for a truly personal touch. From Humorous to Formal designs, we also have a range of Hen's and Buck's Night coolers that can be as risky as you want them to be!
We print full colour photo coolers or single colour silk screen printed coolers, with a huge range of inks including Metallic's. In our full colour range we can even individually personalise each cooler with your guests' name to be used in place of name cards for your table setting!
Small Hens nights to Huge Receptions Glug Designs can find a solution for any size event and taste. Please stop by and check out our website at www.glugdesigns.com.au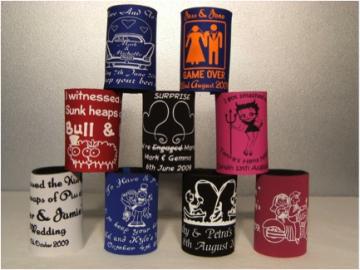 Subscribe news Letter for special offer & news!